Originally posted on Film Inquiry.
Katharine Hepburn was one of the biggest stars of the Golden Age of Hollywood. Through a career spanning six decades, 44 feature films, 33 theatre appearances, and four Academy Awards, Hepburn's contribution to the arts, as well as her feminist outlook and her lifestyle choices, make her one of the most intriguing and admirable stars of the 20th century.
Occasionally confused with Audrey Hepburn of both the same era and profession, Katharine had a unique impact on the film industry through her strong will and stronger opinions, her feminism and her individually-styled presence on the big screen. Her feminist viewpoints and bold presence in the press contrasted with the typical glamour of other stars of the time, and created an ambiguous relationship between Hepburn and cinema audiences, as well as with critics and the media. Her rise to stardom did not come easily, however her perseverance on her career path to the top has made her a long-lasting cinema classic and style icon.
Younger Years
Prior to Hepburn's Hollywood stardom, her younger years and upbringing paved the way to her cinematic success. Born on 12 May 1907 to a wealthy family, as the second of six children and the eldest daughter, Katharine Hepburn was raised in a comfortable and progressive setting in Hartford, Connecticut. She gained an insight into the suffragist movements from an early age through her mother's activism and protests, and this early introduction was influential and continued into her adulthood as she maintained strong feminist values.
Tragedy struck the Hepburn household when, at just fifteen years old, the eldest child and Katharine's older brother Tom Hepburn took his own life. Close in age to her brother, they had also had a close relationship and consequently his death had a lasting impact on her. She secretly changed her birth date to his for many years and continued with a tomboy aesthetic and mannerisms into her later teenage years.
Hepburn went on to study at her mother's Alma Mater, Bryn Mawr College in Pennsylvania, but unfortunately did not thrive in the academic setting after years of home tutoring. She disliked her time there initially, with poor marks in her classes, and was even caught rebelliously smoking in her dorm room.
Theatre Debuts
Drawn towards acting over her studies, Katharine Hepburn improved her grades in order to be permitted to perform in school productions. Taking on the lead role in The Woman in the Moon during her senior year, Hepburn received great responses to her performances. While she went on to graduate with a Bachelors in history and philosophy in 1928, it was her time spent on stage which had inspired the young Hepburn to pursue acting as her career path.
"If you always do what interests you, at least one person is pleased."
Leaving university and closing the chapter on her studies, Hepburn looked ahead to a career in show business, beginning this quest the day after her graduation. Determined to get herself back on stage, Hepburn travelled to meet with Edwin H. Knopf, who ran a theatre company in Baltimore. Her passion and willfulness caught his attention so he cast her in a small role for The Czarina. Her first appearance was well-received, but the initial success did not last. Her high-pitched, shrill voice was criticized and she left the production for New York, to visit a voice tutor and improve her onstage presence.
Continually learning and honing her new craft, Hepburn's struggle to "make it" continued in small theatre productions. Appearing in several more as an understudy, including The Big Pond and Holiday, Hepburn eventually got her Broadway debut in These Days, an unsuccessful show which only lasted eight nights.
Breaking into Hollywood
It was not until 1932, after taking on a role in The Warrior's Husband that Katharine Hepburn was spotted by a talent scout who worked for Hollywood agent Leland Hayward. She was signed to RKO Pictures for a minimum of three weeks and was immediately cast in A Bill of Divorcement, her first feature film appearance released in the September of 1932. This marked her first onscreen appearance – a breakthrough in the young actress' career – and it also became the first opportunity for a lasting insight into her early acting style.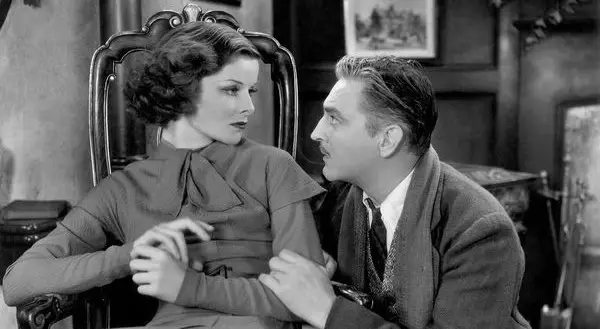 The film follows Sidney (Hepburn) and her mother, who is engaged to be married. The celebrations are interrupted when Sidney's father, previously committed to a psychiatric hospital, returns home and struggles to adjust to life on the outside. While Hepburn's young character speaks her mind and rejects 'ladylike' mannerisms, she is limited to an existence in terms of her relation to her father. She remains dependent upon him in the end and this film, early in Hepburn's career, only hints at the oncoming progress in her onscreen female characters.
The first of ten films paired with George Cukor in the director's chair, RKO then signed Katharine Hepburn for a long-term contract off the back of her debut's success. Christopher Strong and Morning Glory, both released the following year, also proved to be successful performances from Hepburn's perspective, with positive reviews for her portrayal of aviator Lady Cynthia Darrington in a poorly received film, and an Academy Award for Best Actress in the latter of the two.
The third screen adaptation of Little Women (1933) included Hepburn as Jo and, released in the pre-code era, it was the first version of the story with sound. As one of the most successful films of its time, it also later became one of Hepburn's personal favourite performances.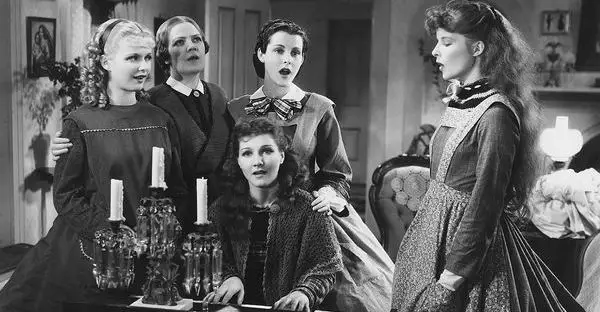 The early victories of Morning Glory and Little Women set the bar high for following ventures which were unfortunately a lot less commercially successful and poorly received. Spitfire (1934), where Katharine Hepburn plays an uneducated girl living in the wilderness, has been considered one of her worst films, and she took a break from cinema soon after to pursue more stage roles.
Katharine Hepburn as "Box Office Poison"
A string of unsuccessful films also followed the failure of theatre production The Lake. The play had been directed inadequately by Jed Harris and consequently Hepburnpaid $14,000 of her own money to close down the production and free herself from his clutches. She would later recount Harris to be "the most diabolical person [she had] ever met" (quoted in "Kate Remembered" by A. Scott Berg).
Upon Katharine Hepburn's return to RKO after the brief intermission with Harris, she was cast in The Little Minister (1934) and Break of Hearts (1935), and both failed commercially. However Alice Adams, also released in 1935, based on the novel of the same name, struck a chord with audiences and critics alike, giving Hepburn her second Academy Award nomination.
Then came another wave of disliked performances and films – Sylvia Scarlett (1936), Mary of Scotland (1936), A Woman Rebels (1936), and Quality Street (1937). The New York Times called Hepburn's performance in Sylvia Scarlett an "awkward, imaginative, tremulously frustrated heroine", while Variety praised her in the role of Queen Mary since she "humanizes it all". The mixed reviews with positive feedback from critics was disregarded by the cinema-going public and Hepburn consequently continued her losing streak. Later in 1937, Stage Door was a near success, receiving good feedback in early reviews, but audiences did not agree with critics once again.
Bringing Up Baby (1938), Hepburn's second feature with Cary Grant after Sylvia Scarlett, a screwball comedy directed by Howard Hawks, is now considered a classic of its genre. The film follows paleontologist David (Grant) as he is persuaded to help Susan (Hepburn), a quick-witted young woman, deliver a leopard to her aunt's house, without him realising that said aunt is a potential donor to his museum. Upon original release, the film received acclaim from critics but again audiences did not agree, and it became another box office flop starring Hepburn as the common denominator.
This trend did not go unnoticed, and in 1938 Hepburn was labeled "box office poison" by the Independent Theater Owners of America after Bringing Up Baby's lack of commercial success. Her attitude towards fame and the press did not help the situation and she was informally nicknamed "Katharine of Arrogance" by some reporters. Throughout the many rejections and failing films, the lack of rapport with audiences and her unpopularity in the press, Hepburn remained undeterred and persisted with her acting career in the hope of turning things around again.
"If you obey all the rules, you miss all the fun."
Holiday (1938) was the final straw for her time at RKO. The third film starring Hepburnalongside Grant was again well-received by critics, but failed to attract a large crowd of film fans, continuing Hepburn's temporary legacy as "box office poison". Enough was enough for Hepburn when her next offered role was for $10,000 – less than half of her starting salary when first signed on at RKO – and thankfully she took the matter of her career into her own hands.
Hepburn remained determined to continue both on stage and in cinema, so she bought out her contract from RKO, allowing her to freely move on to her next chapter in the hope of winning better favour with the public.
Comeback Success in The Philadelphia Story
The pivotal moment in Katharine Hepburn's career came when she was freed from the studio system and was able to pursue creative projects more independently. Taking a step back from film and Hollywood momentarily, Hepburn landed the role of Tracy Lord in The Philadelphia Story in 1939, a new play by Philip Barry. Seeing potential in the play, Howard Hughes, her romantic partner at the time, bought the film rights prior to its opening night.
After the play toured the US and became a must-see hit, Hepburn sold the rights for the film adaptation to Metro-Goldwyn-Mayer so long as she would reprise the lead role. Along with Hepburn's choice of director, George Cukor, she also chose her co-stars in the shapes of Cary Grant and James Stewart.
Hepburn was very aware of how she wanted her Tracy character to be perceived by audiences. Crafting and dictating the way in which her character's story would be told, Hepburn saw the film as a way to revive her acting career and increase her popularity with film fans once again.
During the course of the film, the Lord family begrudgingly permits two members of the press into their home to cover Tracy Lord's wedding. This invasion of privacy is slowly accepted by Tracy and her family, and they let their guard down, allowing the public an insight into their private affairs. Mirroring the difficulties Hepburn had in her relations with the press in the non-fiction version of events, her character's problems arising from her own temperament created a sympathy in the film's audience and thus helped to recreate Hepburn's public image.
The Philadelphia Story gave Hepburn her third Academy Award nomination and her next project at MGM, Woman of the Year's success presented her with a fourth. The film follows Tess Harding (Hepburn) as she marries Sam Craig (Tracy), and the marital problems they encounter due to her dedication to her work – a familiar situation to the career-driven Hepburn.
The Spencer Tracy Years
In Hepburn's personal life, she demonstrated how a woman did not have to conform to expectations of her gender through marriage and motherhood, by going through a divorce and actively choosing to not have children. Katharine Hepburn remained unmarried after her divorce from Ludlow Ogden Smith in 1934. Having married the fellow Bryn Mawr alumni during her early theatre days in 1928, she prioritized her career over the marriage – much like her Woman of the Year character – which resulted in the couple's estrangement.
"If you want to sacrifice the admiration of many men for the criticism of one, go ahead, get married."
Two subsequent relationships came in the years that followed, with Leland Haywardfor four years when she had initially moved to Hollywood, and Howard Hughes, for a couple of years before her being labelled as "box office poison". Once she moved away from Hollywood for Broadway and had remained focused on her career, their relationship also came to an end.
Hepburn was in a long-term relationship with Spencer Tracy for 27 years after they met in 1942 on the set of Woman of the Year at MGM. The first of eight films together, Hepburn later remarked how their time together was "absolute bliss" and while appearing in more films alongside Tracy, their romantic partnership remained a secret while their onscreen affairs blossomed.
"We just passed 27 years together, in what was to me absolute bliss."
While Tracy was separated from his estranged wife Louise Tracy and had been since the 1930s, he made no move towards divorce. Instead Hepburn and Tracy kept their relationship concealed from his wife and lived in separate homes. Throughout Tracy's illness and final years, Hepburn was by his side and cared for him during the closing chapters of his life, but when he passed, she did not attend his funeral, primarily out of respect for his estranged wife. While only rumored at the time, their relationship was not spoken about publicly by Hepburn until after both Tracy and Louise had died in 1967 and 1983 respectively.
Pacing Herself in the 1940s
From 1942, after Woman of the Year, to the end of the decade, Katharine Hepburnslowed her workload down in order to support Tracy through his struggles with alcoholism. Roughly starring in one film per year, the 1940s also saw a change in Hepburn's popularity due to her increased political engagement.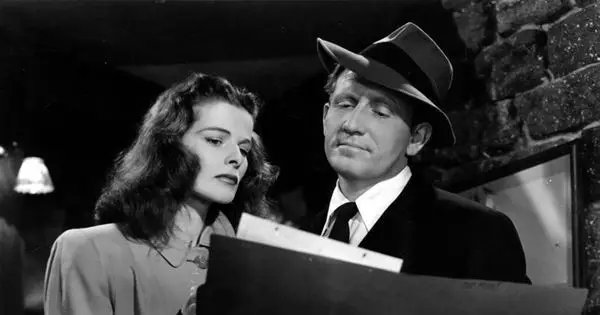 When Keeper of the Flame (1942) became a box office hit, its success proved to MGM the popularity of the Hepburn–Tracy duo and kept the onscreen partnership coming throughout the decade.
Dragon Seed (1944), in which Hepburn was grossly miscast as a Chinese woman during the Second Sino-Japanese War, has been condemned as racist, propagandist, and as the lowest point in Hepburn's career. The film was a complete failure at the box office, coming in as a financial loss for the studio, and is now heavily criticised as the worst film by MGM in the 1940s.
Without Love, the third Hepburn–Tracy film, was released in 1945 and was a hit with fans of the romantic pairing of the two leads. Undercurrent (1946), a western with Robert Mitchum and Robert Taylor followed, but did not garner much attention. The fourth Hepburn–Tracy picture released a year later, The Sea of Grass, gained a lot of interest from fans and was their first, and only, western film together.
In 1947, Hepburn also took on a pianist role in Song of Love, learning to play the piano for authenticity. Her increasing opposition towards the anti-communist movement in Hollywood affected her career at this stage, causing this film to lack any positive attention from cinema-goers. Instead the screenings were sometimes even met with protests and picketing, as a result of growing political tensions, and her career involuntarily paused as no film offers came her way for over nine months after Song of Love.
State of the Union came in 1948, where Katharine Hepburn played opposite Tracyonce again in their fifth onscreen partnership. Their sixth came the following year in Adam's Rib (1949, Cukor), a romantic comedy film written specifically for them by their friends Garson Kanin and Ruth Gordon. It follows two lawyers, who also happen to be married, up against each other in an attempted murder case which puts their marriage on the line in a bitter "battle of the sexes".
1950s and 1960s Revival
The African Queen, Katharine Hepburn's first Technicolor film, was released in 1951 and co-starred Humphrey Bogart. It was shot on location in Africa and Hepburn was nominated for the fifth time for Best Actress from the Academy Awards. Pat and Mike, another film written by Kanin and Gordon for the Hepburn–Tracy pairing, was released the following year and was Hepburn's favourite film with Tracy as her co-star. It was to be her last film at MGM under her long-term contract and she then took two years off before starring in Summertime (1955) and The Rainmaker (1956), both of which provided two further Academy Award nominations.
The Iron Petticoat (1956) and Desk Set (1957) did not fare as well in theatres and Hepburn then left cinema for two years to pursue Shakespearean stage work. Suddenly, Last Summer (1959) alongside Elizabeth Taylor and Montgomery Clift was her next feature film, followed by Long Day Journey's Into Night (1962), a low-budget production which earned Hepburn another Academy Award nomination.
A longer break from acting occurred after 1962, during which Hepburn spent time taking care of Tracy during his long battle with heart disease. Their next screen performances would be his last, in Guess Who's Coming to Dinner (1967), and a few weeks after filming ended he died. Hepburn won her second Best Actress Oscar for this film and she then fully returned to acting, working through her grief; The Lion in Winter (1968), for which she won her third Oscar; The Madwoman of Chaillot (1969), a box office and critical failure; and Coco (1969), a biographical Broadway musical for which she earned a Tony Award for Best Actress.
Television Debuts and Later Films
The Trojan Women (1971) and A Delicate Balance (1973) were both poorly received at the start of the 1970s, and Katharine Hepburn made her television debut in the shape of Tennessee Williams' The Glass Menagerie, and she continued with the medium in made-for-television film Love Among the Ruins (1975), and George Cukor's The Corn is Green (1979). She also later starred in Mrs. Delafield Wants to Marry (1986), Laura Lansing Slept Here (1988), The Man Upstairs (1992), This Can't Be Love (1994), and her final television performance came in One Christmas (1994).
Hepburn's final five films with cinematic releases were Rooster Cogburn (1975), alongside John Wayne, Olly, Olly, Oxen Free (1978), which was a financial failure, On Golden Pond (1981), for which she gained a fourth Academy Award for Best Actress, appearing alongside Henry Fonda, Grace Quigley (1984), which was poorly received, and Love Affair (1994), where she was a supporting actress – the first time in her career where she was not in the lead role.
Hepburn's Legacy
Katharine Hepburn, a four-time Oscar winning actress, appeared in 52 feature films, both for cinematic release and televised broadcast, in a career spanning over 60 years. The independent women Hepburn represented onscreen frequently represented her own lifestyle choices and she demonstrated a new possibility for women's place in society – the "modern woman". Her style and star persona, personal opinions and onscreen performances all demonstrated the shift in women's position in society from the 1930s onwards.
Hepburn's wardrobe choices and androgynous style set her apart from other actresses and typical glamour of the era, donning suits and trousers, cross-dressing at times, and pushing the boundaries of her gendered appearance. Her feminist beliefs were made clear when she discussed patriarchal society structures, once noting that she "never realised until lately that women were supposed to be the inferior sex", finding "a woman's point of view much grander and finer than a man's". As a result of Katharine Hepburn's unique body of work, her monumental impact on cinema, fashion, culture, and the representation of women in the media will be recognised and admired for many years to come.